I especially love Doves... the Morning Doves
come to my Bird Bath daily..
Nothing evokes peace and serenity like a dove..
I am still on a quest to answer the question..
Why do doves squeak when they fly?
If you know..please tell me why!!
INTO THE LIGHT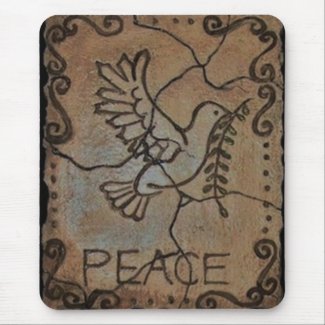 Peace Dove Stone Mousepad
Beautiful products with my PEACE DOVE Stone
art work.
Made to Order
Order in bulk for your shops..
for corporate gifts..
Wedding favors..
or one at a time for a dear friend...
How about a little something for yourself....

Rock Doves are nesting out my
what a lovely thing to watch the nest being built
strand by strand.. branch by branch...
the happy colors and the tulip.
Even though we have 9' snowbanks out the window..
Spring is in my thoughts....